Table of contents
Last Updated: 15/1/2017
There's a boom at the moment and it's focused on self-online learning. There are numerous websites popping up all over the interest designed to help people learn a new skill. This post is focused on one of the most promising websites involved with this – Team Treehouse. I have been a member for a few months and decided to add a Team Treehouse review so you can see how awesome it really is.
While there are other websites like Codecademy, Udemy and Code School, from playing around with each, I prefer Treehouse for reasons you'll see in this review.
What is Treehouse?
Treehouse is an online education platform designed to teach students to
Learn to build websites, create iPhone and Android apps, code with Ruby on Rails and PHP, or start a business.
Treehouse has over 1000 videos for these courses and they are increasing fast.
The Treehouse courses
The Treehouse course is divided up into 5 different categories. Websites, programming, business, iOS development, Android development and of course, some bonus content.
Each course starts you off at the beginner level helping you get accustomed to the new skill you are about to learn and progresses towards the more difficult. You will also go through a series of quizzes and reward videos for completing the courses.
Typical course layout
If you finish a course pretty fast you are always up to date with the new features with a timeline of when the new projects are being released.

Latest Team Treehouse discount
Get 4 Months Off Our Basic Annual Plan
(Save $100 – 33% off)
Get 4 Months Off Our Pro Annual Plan
(Save $196 – 33% off)
Awesome personality
Treehouse goes the extra mile for creating an awesome atmosphere for users of their course as the video below shows.
Got to love Mike the frog and the staff at Treehouse.
Treehouse Tracks
If you're new to learning code then it can be pretty daunting knowing where to start. This is where Treehouse's amazing new tracks feature comes in handy.
Here you can select which path you want to do. As you can see from the above there's a decent number of popular tracks. You pick which one you want and then you'll get this:
You'll get something like this for very track, it's a roadmap of courses you'll need to complete to complete the track.
To complete a track means you'll need to put in a lot of hours. Each course within the tracks has multiple videos and quizzes which you'll need to complete in order to progress onto the next course on the track.
One nice feature to keep you focused and motivated in the schedule feature. Here you can give yourself a timeframe to complete the tracks. This one shows how much I have of the Ruby track left.

My own Treehouse profile
You can see my progress here http://teamtreehouse.com/leehughes

The above image is of my profile page on Treehouse. So far I have earned 19 badges most to do with web design. But there's still 127 badges I have left to learn. These badges are increasing all time as Treehouse add new courses and content. 

Let's say you wanted to become a web designer. Your course would look like this. Treehouse take you from the very beginning of what skills you'll need to learn to become a web designer and they take you through the steps very effectively.
This is my own progression for becoming a web developer. So far I'm 29% further to becoming a web developer than I was previously. I don't particularly want to become a web developer but I since I work in SEO and design is so important for user experience I thought that I would save time trying to figure out how to make certain design changes but just learning them.
Using the Treehouse course for web design. I hand coded my first ever simple website in one weekend and it helped me understand the structure of website design which became a good skill for working with the Thesis 2.0 theme.
What languages?
Treehouse moves quickly. Since I wrote this post Treehouse have added hundreds of videos and included more programming languages for suit various tastes. Here I'll list each language that Treehouse cover and I'll try to keep this updated when they release new languages.
HTML 5
Treehouse do an excellent job of covering the HTML courses. They start with very simple videos for those just starting out with programming. HTML is pretty easy to pick you and as you progress through the videos you'll find your skills and knowledge increasing. One course I would suggest is the how to make a website course with Nick. Here you'll learn to code yourself a simple website. This is a great way to start learning the basics of HTML and CSS.
All the videos on Treehouse are up to date with the latest versions of HTML5 and CSS3 so don't worry about older versions of these languages. Most videos aren't stand alone videos and have in fact been built as a path depending on your interests so it's easier to start learning without any experience to develop your skills as you go and learn more and more complicated stuff.
Once you get more familiar with HTML there are other videos which can help you expand your knowledge of this language. For example there's a video on Coding Your First HTML5 Game. Here's the description from Treehouse.
There's a lot of hype about HTML5 and games right now. In this workshop, Randy will walk you through what you need to know to code your first browser-based game using HTML5 and JavaScript. You'll learn key HTML5 terms and how they relate to games, and you'll see what it's like to work with a simple JavaScript game framework.
CSS3
The CCS3 courses in Treehouse will be along side the HTML courses as you progress through the paths. One of the best videos series to watch if you are just starting to learn CSS is the CSS foundations course.

This course is pretty long but it's essential if you are to progress with your CSS. This course will take you through the basics of CSS and teach you certain aspects of the language so you can built up your knowledge.
There are also videos explaining in depth on how to use CSS frameworks such as Foundation and Bootstrap. By taking advantage of these frameworks you'll speed up your development so it's essential that you spend time learning these frameworks.
Also in the CSS videos are tutorial videos on Sass. While I haven't had the time to go through these videos yet Treehouse have produced a large number of hours of Sass videos.
Javascript
If you're interested in Javascript then Treehouse is for you. They have hours and hours of videos teaching you how to learn Javascript. If you're new to Javascript (like me) I suggest you start on this course – Javascript foundations. This is a 7 hour long course so be prepared for a huge amount of information coming your way. But it's an essential course for anyone wanting to learn Javascript and not know where to start.
After you complete this 7 hour long course there's a lot more to learn from Jquery, AngularJS and more. There's a lot of content here with a lot on the way from Treehouse.
Ruby
Ruby has grown in popularity since the development of Ruby on Rails and is continue to grow.
In Treehouse style you'll have a video series of Ruby basics to get through. This course is two hours long and which teach you what you need to know to progress with the Ruby language.

But it's not all theory and learning. The Ruby course lets you get your hands dirty with a good length video series on creating your own app similar to Facebook. This uses Ruby on Rails and as you go along you'll learn more and more complex code helping you develop your app with more features.
There are also stand alone videos for Ruby, for example, there's a 2 hour video on how to code a to do list app with Ruby which is a great way to start to piece together what you've learnt from the basics courses and start to learn how things start coming together.
PHP
For those interested in learning PHP, Treehouse has you covered. You'll start off learning how to build a simple PHP application.
This project will show you how to build an e-commerce store in the PHP programming language. By the end, you'll be able to build an online t-shirt store that can display inventory items and take orders via PayPal.
Pretty cool. You'll be combining what you've learnt through the HTML and CSS courses and building something which you can use as a side line project to create additional income from by opening your own online store. You'll do this in just two hours! Of course it doesn't stop there and there is a 6 hour long course on how to enhance your online store:
This project will take the existing e-commerce store we built earlier and enhance it with new techniques using the PHP programming language. By the end, you'll be able to build an online t-shirt store with clean web addresses, basic search functionality, pagination, and more. You'll also understand programming concepts like refactoring and separation of concerns.
Objective-C & Shift
Since Apple released information regarding the development of their new iOS language – Shift, Treehouse started working straight away to produce videos on how to learn Shift for iOS development. While the language is still new there's already a large number of hours on the iOS course.
Not only will you learn the basics of the language but you'll also get your hands dirty with a two hour video course on how to build a weather app. This is a great way to start to piece together what you've learnt from the basics course and using that information and applying it to something practical.
Python
Yay! Python is here! After much demand from the students on Treehouse they are up and running with the Python language. It's still early days for the Python course at the moment but expect a lot more videos and cool stuff. On their roadmap there's Django also listed so I expect a lot of videos for the future.
These are the core languages at the moment with Treehouse but they also have plenty of videos covered different things from WordPress development, Android development and much more. See my post on basic vs pro for more information.
Not all about code
Some people take to code easier than others. Treehouse isn't just about hand coding websites and building apps. It's branched out into different areas which are also important such as Photoshop, marketing and building your own company.
Photoshop course
 How to market your business
How to build your company
Treehouse teaching style
This is an example of the kind of videos you would expect to view if you decide to sign up to the Treehouse. I find them easy to follow, very high quality videos. The staff is very clean spoken and take it slow so you can keep up. Videos are mostly short for those 21st century attention spans.
New features added all the time
This is the latest feature of Team Treehouse, a points system to see how you're doing on your Treehouse adventure. This is my own at the time of writing. It's a great way to visualise how you're doing and to see which areas need improving. This is one of many features that Team Treehouse come up with over time.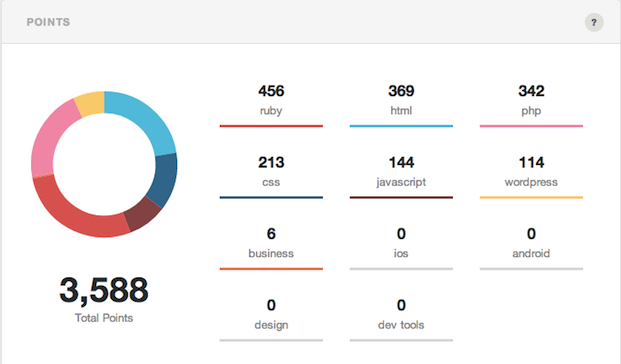 Treehouse Quizzes
After each video you are presented with a quiz. By taking a quiz it shows you how much you have learnt from the videos and also gets those neurons firing to see if you have understood the topic in question.
This is an example of a quiz below. As you can see the quizzes are multiple choice and you need a certain amount of correct answers in order to pass the quiz, in this case I needed 4 correct answers to pass this test.
Support
I found Treehouse's email support very helpful, usually getting a reply in around 12 hours or so. When I signed up they only had a Facebook group as a forum, this has now changed and they have cancelled the Facebook group in favour of their own forum for students to ask questions on what they are stuck on. Already this forum is providing value for students of Treehouse and over time their well-organised tag and discussion links will make it easier to view topics on the topic you are most interested in.
Pro vs Basics
Buy one – give one
Treehouse are now running an excellent program. When you sign up for a Pro membership, they will donate one to a public school student.
American Treehouse Students of six months or longer reported earning $10,000 more per year in comparison with new students. By providing them an account, you're helping make this happen.

This image shows nicely what you'll have access to if you're unsure on which plan is right for you. Note- I have now written a more in depth review on Pro vs Basics.
Treehouse keep updating their Pro plan and they have just announced that Pro members have access to the entire video collection from MozCon. For those that don't know, Moz is the leader in SEO software and every year they run presentations on how to market your business from leading experts in SEO. This is now free with a Pro plan.
Treehouse Pricing
The current pricing for Treehouse is for two different options, Pro vs Basic.
Basic is $25 a month or $250 for a years service
Pro is $49 a month or $490 for a years service.
Get 4 Months Off Our Basic Annual Plan
(Save $100 – 33% off)
Get 4 Months Off Our Pro Annual Plan
(Save $196 – 33% off)
Benefits of an annual subscription with Treehouse
Treehouse are currently running a great offer (see above links). You can get 3 months off the course if you buy an annual subscription with Treehouse but what you most likely don't know is you can pause your Treehouse membership for 3 months at no extra cost. 
Team Treehouse job board
As Treehouse continue to add new features all the time one of the most exciting features is the new job board they have just posted. While this is still early in development at the moment it's a positive sign that Treehouse want to help as much as possible to get you in your new job. This is just the start and further plans are in development. Here's quotes from the Treehouse staff about the future of the job board.
We're working on a lot of fronts with jobs, but one thing we realized when working with partner companies was that we're not going to be able to change how they handle the application process overnight, and at present companies all handle applications in very different ways. Working with the companies and giving them maximum flexibility ensured that Treehouse students are on equal footing with other applicants when applying for positions.

We have a ton of ideas in the works for making it advantageous to be a Treehouse student when applying on the job board, and a ton of ideas around other job-related features for Treehouse.We're focused on helping Treehouse students succeed throughout their careers, and that's something we'll never stop fighting for.
Getting a job using Treehouse
Treehouse have teamed up with various companies who are willing to offer students jobs with the right badges.
Already several blue chip companies like Estée Lauder, Disney and Virgin have signed on to use the service for employee training and startups like LivingSocial, WordPress/Automattic and BankSimple are on board to recruit qualified Treehouse Members after they pull in the requisite badges.

"We plan on getting millions of unemployed or 'under-employed' people out of low-paying and unsatisfying jobs and into higher-paying and exciting design and development jobs," says co-founder Ryan Carson. He hopes that the service will put a dent in the number of open web and iOS app job opening around the world, and positively impact the world economy.

"A Computer Science degree might cost you $50,000 and take you four years to complete," Carson tells me, "Treehouse can give you the skills you need and a potential job at the end, all for $150 in six months."

To further increase the employability of its members, Carson plans on adding more courses — e.g. iOS 5 Foundations, Ruby Foundations and PHP Foundations — to the Treehouse curriculum as soon as possible. "Basically, any topic that web developers, designers and iOS designers/devs need to know, we'll be tackling," he says.
Also there is a stories page about how students used Team Treehouse to a land a better job. In addition to this, Treehouse has a monthly series with inspiring students called the Dean's list showing how students are using Treehouse to create a better life for themselves.
But what about demand for coders in the job market?
Via http://www.code.org/stats
Big Things Coming In 2015
In 2015 you'll see even more courses from the Treehouse team but they will also release a new feature focused on helping you get a job.
We have just released the beta of the brand new Treehouse Career Program. It's only available to a small number of Students in Oregon right now, but our goal is to get it live for all Students early in 2015. We can't wait to help you work towards a new job!
This is a great move by Treehouse as they continue their mission to help people find their dream job. I will be reviewing this new feature when it's out.
Can You Really Earn Extra Money From Treehouse?
Yes. Treehouse can provide you with the skills you need to start your own business, create your own apps or just freelance in whatever area you wish. Once these skills are learnt it's then a matter of your creative talent to see how far you get. Anyone can learn to code but my personal opinion is it's creative talent that will take you that extra mile.
Introducing Alex Mangini –
Alex is 18 and while he had the skills to build websites it was his creative talent that set him apart from the rest of his competition. Alex designed skins for the WordPress Thesis theme. His website Kolakube sells premium Thesis skins and his designs are original and very popular with Thesis users, so popular in fact that he is set to make $120,000 a year from these Kolakube skins.
What about Treehouse students? 
Yes, there's an increasing number of case studies from students who have landed jobs because of the skills they learnt through Treehouse.
Success stories
Final thoughts
As you can see Treehouse makes an excellent course for those wanting to start a new career or set up a different form of revenue from the skills learned. I hope this Treehouse review covered everything you wanted to know about the website and more.
As I learn better visually this makes it very easy for me to learn new skills with Treehouse. Download the videos and watch them wherever you are. The nice feature of adding badges and rewards makes it feel like real progress learning a new skills. I know people sometimes feel despondent when learning a new skills because of the learning curve involved so the badge feature and the funny reward videos keep those spirits up and make you eager to make progress and get more badges.
Pros
New content added all the time
Helpful community
Structured learning paths
Exciting job potential
Cons
Some courses very basic
Own learning required a lot to progress in subject
Team Treehouse is an online education platform helping you learn the needs needed for your new job in web design/web development. With the amount of content that Team Treehouse add I find it good value for money. There's always something new to learn and practice. Their style of mainly videos as a form of teaching goes down well with me as it's my preferred method of learning.